Reduce Fading of Furnishings and Flooring
UV protective window coverings to reduce fading and keep your home looking its best
For all the joy that unfiltered sunlight brings when it shines through your windows, it does cause facing in furniture and other fabrics, natural wood flooring, artwork, photos, and your other valuable. You have made a tremendous investment in these items and your home, so it's important to protect it and keeping it looking beautiful for years to come.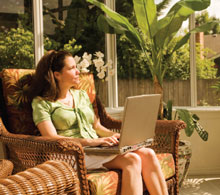 Protect your home and belongings from ultraviolet light with protective window film
3M Window Film acts as a transparent barrier blocking harmful ultraviolet light. Depending upon which film you choose, these window films can also significantly reduce excessive solar heat gain and glare by regulating the levels of heat and light passing through the glass. The most beautiful feature of all: it does all of this while still letting the same amount of natural light enter your home.
The amount of heat and light rejected by UV protective window coverings depends on the type of film selected. 3M Window Films reject 99.9 % of ultraviolet light and offer the best sun damage protection on the market for your home and the people and things it houses.